Rankings
Randolph College professors are among the nation's best
Experts in their fields, Randolph's professors are dedicated to teaching and take pride in the individual attention they provide to students.
In fact, Newsweek has ranked Randolph College first in the nation for the accessibility of professors, and they consistently are rated among the nation's best.
View Randolph College's rankings and accolades.
Randolph students receive not only individualized attention in the classroom, but opportunities for research, publication, and mentoring.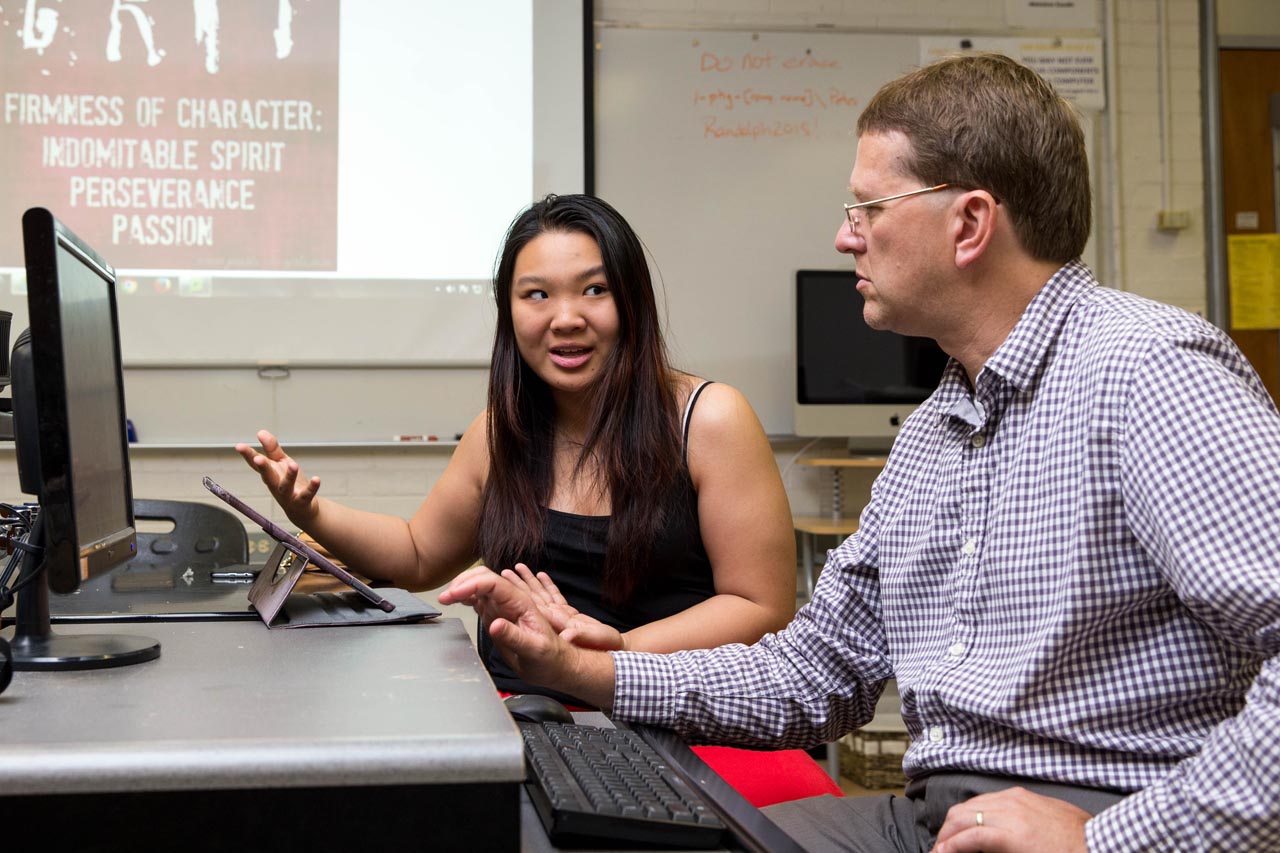 Reviews
Here's what some of our online students had to say about our faculty and courses.
"When doing a translation with Dr. Cohen's supervision, it feels as if she is sitting right beside you every step of the way. Videos on the material alongside a reading each chapter of Hansen and Quinn gave me a fairly good grasp of each concept even if I was not automatically picking up on everything that was going on immediately. I wanted to learn Ancient Greek in order to read original texts written by Plato and other Greek philosophers; I feel like I'm getting closer to that goal everyday."
-E. Pausic
"I also wanted to let you know that this has by far been the best online class I've ever taken. I definitely learned a lot and even found out I kinda like physics :D "
-B. Epperson
"As a double major and an athlete, school work can be overwhelming during the year. I used my summers as time to work and intern for local clinics. I was told about an online Physics course through my advisors that I could take over the summer to keep my class work down as well as my stress levels. I was hesitant in enrolling in a summer class thinking it was going to be too much for me to handle with my summer schedule. As the course began to progress I was able to keep in contact with my professor with any upcoming complications of travel or work. I was grateful enough to be able to work around my schedule and complete the course. This opportunity was extraordinarily helpful in keeping up with my class requirements and moving toward graduating with my degrees."
– K. Wade
"I just wanted to let you know that I very much enjoyed the class as a whole. There was a large amount of extremely good information, and I got a lot out of the assignments. I'm definitely glad that I took it, and I appreciated your thoughtful work as a teacher; you were extremely approachable, which was important with how personal a lot of the content was."
– S. Krueger
"I loved the online class! You were so easy to reach out to and answered back almost immediately! I was nervous that the online class would be more difficult but you provided a great amount of resources that we could use to help process information and remember it. I also enjoyed the journals that we completed because it gave me time to self-reflect in the summer which I don't normally do. I would definitely take another online course because it didn't feel like it was a hassle or I had to do it, I enjoyed it."
– R. Carretta
"For the Lifetime Wellness course, I liked the variety of learning and assessment types (reading, lecture, quizzes, projects, discussion); this kept it engaging and made it accessible to different learning styles. One thing that made it effective was that you did not try to replicate a classroom experience but instead adapted the content to the online model. The communication was very helpful; online courses can feel detached, but your availability as a professor (email, participation in discussions, and recorded lectures) prevented that."
– S. Krueger
"This is a fun and interesting way to learn physics in a different way."
"That this is a good lab to take because right after the lecture doing the labs helped me understand the subject that was explained during the lecture."
"This is a solid course, you will learn and be able to stay connected with the professor. The professor was very knowledgeable and you learn a lot."
"The syllabus was very clear and it outlined everything that was necessary for this class. The lectures and sample problems helped with understanding the topics and the homework forced us to practice these topics. Overall, every part of this class helped reach the goals of the course."
"The instructor was always prepared and very helpful during this class. The expectations of the class were very clear and the instruction for this class was great."
"The instructor was always prepared and was more then happy to answer and of my questions. She's great!"
"The instructor was very responsive within about 24hours my questions would be answered."
"She was the most responsive of any professor I have had! She was prompt and explained things very easily."
"The instructor always got back to me immediately and answered all my questions. She also had office hours during the week for questions. I felt like I had plenty of opportunities to ask questions and always got my questions answered."
"I thought it was great! The professor made it clear and concise and was always available which was really helpful considering it is the summer."
"I personally loved the structure of this class. Having everything taught within 5 weeks was intimidating, but it kept me on schedule with every assignment. I also liked how the lectures and sample problems were presented. Having a teacher physically show the understanding and work behind a problem helped SO much."
"I learned so much from this course. It was like taking the actual class at Randolph."